I want to explain you how Support Vessels work and how you can use them by answering a few questions about them.
Q: What's the difference between a Support Vessel and a usual vessel?
A: Every Support Vessel starts with a special ability, which needn't be researched. Besides this it can be upgraded twice at a research station, which will allow the Support Vessel to use it's Level2 and Level3 abilities, which are more powerful then the special abilities you can find on normal vessels.
Q: How can i identify a Support Vessel?
A: You just have to look at it's tooltip. You can find all necessary information there.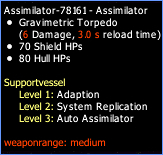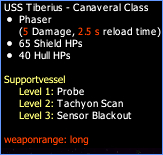 Q: Where can i find these upgrades for my Support Vessels?
A: You can find them at a research station. As soon as you have researched the Basic System Upgrade the Advanced System Upgrade will appear as a research option.

Canaveral Basic System Upgrade

Canaveral Advanced System Upgrade
Note: The stats of this vessel may change until the release
Optec