If you read the forums closely, you will probably have heard about engine improvements in the past month. The first phase of these improvements will get its major impact in the upcoming 3.1.2 patch. Impact quite literally! We are talking about the weapons, explosions and impact effects.
Armada was far away from good show-like special effects and it lacked impact effects at all, except some generic sparkling on the hull, which looked neither Trek-like, nor did it get you any feeling of big badass guns!
We therefore completely redid the weapon effects and explosions in general. You will now have detonations, fireballs and pulse blast flashes once a weapon hits. But let's finish the talking, here are some screenshots of the new Federation weaponry. Visit the forums in the next days for more screenshots of alien races.. and their tools of destruction!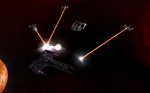 A Federation battlegroup engaging a Dominion battleship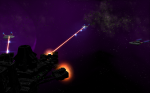 Strike back at the collective!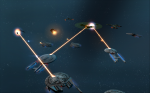 Full spread!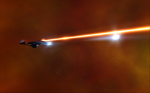 Quantums, Quantums and.. more Quantums!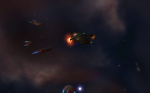 Toasting a Warbird
Klingon Bird of Preys in action