The Past
What began as a small project - for the pure fun of changing values in some files to meet our private goals - has become a fantastic community-driven enterprise.
It is now exactly 10 years from April 30th, 2003, when the first public version of Fleet Operations was released. Of course, development started a lot earlier than that. You can read a bit more about our early history in our info section.
The first public appearance of Fleet Operations was quite unspectacular. Only two weeks prior to the release of Fleet Operations 1.0 we submitted a screenshot to Armada2Files.com. Funny enough, that screenshot still exists in their archives. At that point no-one knew us in the Armada community. This was basically our first entry. So, for some, it was quite surprising that we were about to release a full total conversion just a few days later, while no-one had heard about that modification at all before.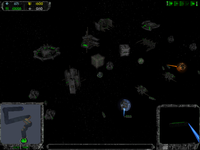 Version 1.1 - Based on the same game engine that still powers Fleet Operations today.And with the release of 1.0 … we failed. There was an annoying bug that prevented a few people from playing the game at all. A fix was quickly created and we released a hotfix soon after. An 'occurrence' we wouldn't see for the last time in the history of Fleet Operations. At the time, especially people with 56k modems were angry after the huge - and essentially unusable - download of 150MB.
A few months later, Version 2.0 was released. It included a long list of balancing changes made possible with the first load of community feedback. It also introduced the Romulans and Noxter as playable races, which weren't ready when we released Version 1.0. The Noxter were a non-canon faction of space organisms inspired by occurrences of space creatures in the shows, Species 9341 from the Armada 1 campaign and the Zerg. As an interesting contrast to the canon factions in Star Trek, they were quite well received by players either as to be played or as adversaries.
After a few patches for 2.0, which focused primarily on further balancing, development continued toward the next major release of Fleet Operations. In part, development was delayed due to a new, quite popular game that was released at the time. The major problem was that many features we'd planned for 3.0 just were not possible within the bounds of Armada's game engine. Two years after the release of Version 2.0 we therefore released a '3.0 Preview' version of Fleet Operations. A better name would probably have been Version 2.5. It had the Borg and Noxter removed from the game again, but included a totally overhauled gameplay when compared to Version 1.0 or 2.0. That version represented all that we could do with the limits imposed by the Armada engine.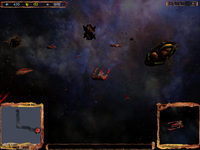 The Noxter made an appearance in Fleet Operations 2.0We were still looking for ways to elude those restrictions, which resulted in the development of a 'loader' that would allow us to inject our own code into the game. This made it possible for us to tear down many of the barriers that existed within Armada's gameplay.
Quite successful with that endeavor, we soon had a whole new array of features and even fixed various annoyances in Armada. This resulted in the 'real' 3.0 Version that was released in 2008. This Version once again featured a complete gameplay overhaul. Later, Version 3.1 and the current Version 3.2 followed. Both of which probably would have been worthy of their own major release version number. In comparison, the most current Version 3.2.7 is nothing like the old 3.0 release. Oh yes, we are quite aware that our version numbering system has been confusing.
What we haven't publicly mentioned is our struggle to acquire the Armada II source code. Armada II - for a 2001 game - was released with quite extensive modification capabilities. However, if you do extensive changes like we did with Fleet Operations, you soon find that there are many shortcomings. To overcome many of those limitations, much of Armada was reverse engineered, new code injected, bugs fixed. That is all a long and often very painful process.
To work with the actual source code would have been the holy grail of Armada development for us. As a consequence, for the last few years we were in negotiations to obtain the Armada II source code. We eventually came to a point where everything looked quite good. What we needed was the green light from the license holder, the developer and the publisher. After a lot of research, phone calls, and emails, we received the go ahead from CBS, as well as Rockstar New England (which was Mad Doc software). It looked like we would get the green light from Activision, too.
We had been in contact with Activision the longest and had talked to many different individuals at the company. We eventually came to a point where it looked like it was only a matter of days before Activision would make the full source code of Armada II publicly available. However, internal company bureaucracy and finger pointing brought us to a last minute dead end. We were turned down - all the previous years of effort brought us nowhere. The Armada II source code and even a relicensed game will likely never see the light of day given the new Activision pronouncements.
The Present
Now, this 10th anniversary hasn't changed much yet for us development-wise. The team is still on track to release our 4.0 version of Fleet Operations. We are looking forward to making this version available to get your feedback on our work.
Looking back, not much has changed from the very beginning of development. The team's spirit is still unbroken. However, what initially brought us to Armada and Star Trek - a franchise full of interesting stories, characters, technology and great battles - today all counts as the 'old' Star Trek. While 10 years ago this 'old' Star Trek franchise was still flourishing, today no shows are running, no new games are released. The last show was canceled and the last game released wasn't all that successful.
Though the 'old' Star Trek is not as present as it had been, we still enjoy it greatly. The Star Trek universe is huge. Just like in the early days, we still want to play out our ideas further explore that universe. Fleet Operations is similar to a model railroad layout, where you can endlessly add more detail to the set. We still have a lot of fun doing that!
However, the best and greatest message is that our tight-knit team is holding together. The founding members - Optec, Detektor, and I (DOCa Cola) are still active and excited. Even after 10 years, the same people who founded this project are still going strong. Since that time we have gained additional members for the team - each who has contributed some unique and valuable expertise to Fleet Operations. Unlike many other modding teams and companies, no members have left because of internal hostilities. Each of us has carved out our own successful habitat to play with Fleet Operations, and most importantly, we like working with each other. Everyone is free to work on absolutely anything their imagination can create - well, not exactly. Though today we are much better organized with task assignments, priorities and roadmaps, we still take the freedom to work on parallel things if we feel the need.
In the past we had small closed beta tests, but today we have dedicated testers working with us. These testers can directly test balancing changes, new features, and help us find bugs. Since then, none of the serious bugs or balancing issues that made it necessary to release hotfixes in the past slip through that level of quality control.
It's not just our internal documentation that's improved. What began as a collection of strategies and handy tips in a PDF file made by some community members, evolved into the Fleet Operations Guide. It has now become a vital resource for players and mod developers alike. I guess Dominus Noctis and Zebh, who maintain the guide and are essential members of the team, never expected it to become this comprehensive.
It is fantastic to see that our team is composed of individuals dedicated to the ideals and aspirations set in motion so many years ago. The same can be said about the people playing Fleet Operations. Though it has now been this many years since the first release, not only new, but also many names that accompanied us in the earlier days of Fleet Operations are still with us. We are thankful and proud to have such a strong community with a never ending flow of ideas and inspiration.
The Future
Now let's take a peek at what the undiscovered country has to offer for Fleet Operations. We all probably have heard that there is a 'new' Star Trek, whose second movie arrives in cinemas soon. And yes, we do actually enjoy the new Star Trek, too. However we consider it to be more of a separate franchise. It is a completely different sci-fi show from the one that Fleet Operations is based on. So if you have ever hoped to see JJ's Enterprise in Fleet Operations - we can tell you for sure - that won't happen. Fleet Operations will continue to be based on The Next Generation, Deep Space 9 and Voyager timeline.
We still have a long list of things we'd like to do with Fleet Operations with the next versions. A 'final' version won't be seen anytime soon - if it could ever come to that!
There is much on this list we wanted to realize long ago, but couldn't because of technical hurdles. Many features are either hard or even impossible to integrate with antiquated Armada.
From a technical point of view, Armada does not have a very bright future ahead of it. Armada II is a 2001 game. Back then it was designed for a 32-bit Windows 98/2000 system with DirectX 8. Every machine today has a 64bit multi core processor. Graphic cards are magnitudes more powerful. With Windows 8, a slow departure from the x86 platform and the classic Windows API has begun. Besides Windows, other PC platforms have become more important for gaming, like OS X or Linux. It is likely that in ten years from now you'll run into problems running Armada on your then current gaming platform. Maybe it'll still work with a lot of duct tape - but we are not planning on developing using a foundation of ancient Star Trek Armada II by then anymore. While Fleet Operations still runs fine on Windows 8 and we even have an experimental DirectX 9 module in development, all that duct tape probably won't hold together for the next ten years.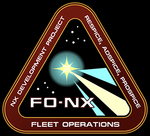 FO-NX project badgeBut enough with gloom and doom! We are aware that Armada won't run forever on current systems and we don't want to live with its limitations. We have long searched for viable alternatives to Star Trek Armada II in order to build a new and improved Fleet Operations. Just recently we have decided how that future of Fleet Operations will look. This work is currently maintained internally under the name "NX project".
Work on this alternative already has begun. It'll take time. As of now it won't negatively impact the release time of the upcoming versions. When we have something that can be presented, we'll show it to you.
For you, nothing will change, you'll just have to wait for the stuff we release and have fun with it.